White Label Crypto Exchange
Join the high-profile roster
Our White Label Crypto Exchange is your one-stop gateway to the highly competitive and constantly changing market of digital assets.

At a turnkey cost, you get a non-turnkey set of features that ensures you are ready for any market conditions.

Depending on your business needs, with our white label exchange software, you can be up and running in just two weeks.
Empower your brokerage

Crypto Processing and custodial serviceinte grations
We can offer you our custom cryptoprocessing and custodial service that runs on your servers and is entirely managed by you, or we can integrate you with external providers of similar services, such as Fireblocks, BitGo, Coinpayments. We also provide blockchain analytical tools that support all the links in the payment chain and check them for compromising.

Liquidity integrations
17 ready-to-use connectors to external crypto exchanges and built-in Marking Making algos are ready to fill your exchange with quality liquidity. We can also offer more than 30 connectors to FX liquidity providers, which can be useful in the formation of synthetic crypto instruments.

Fiat payment integrations
The solution supports the connection of 60+ payment systems out of the box, any other connections are available upon request.
High-performance software components
High-performance software components
Whether you're betting on Bitcoin or any other digital asset, you can be sure that any process or transaction on your exchange will be executed in compliance with all modern technology and security requirements.
Convenient KYC/AML built-in module with a possiblity of adding an third-party KYC service provider.
Virtually unlimited number of both crypto and fiat instruments for exchange and trading.
A variety of crypto and fiat gateways for funds depositing and withdrawal.
Integrated KYT services (Scorechain and Crystalblockhain) to check transactions for illegal activity on the fly.
Margin and spot exchange operations accessible from any device.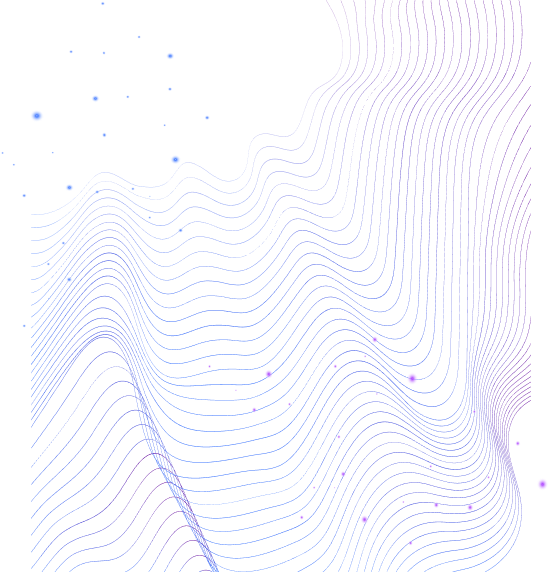 Quality liquidity from day one
Together with careful customer support and a variety of features, quality liquidity is essential for improving the trading experience. Not only does our White Label Crypto Exchange allow you to fill your trading platform with deep liquidity from the first weeks of operation, but it also makes the process of liquidity aggregation completely independent.

The liquidity aggregation module included in this software package allows managing liquidity flows from both internal and external sources and obtaining complete freedom in choosing providers your business needs.
Advanced security protocols
One of the priorities that our development team kept in mind when designing the components of this solution is the security of trade transactions, personal data, and clients' digital assets.

Therefore, our white label cryptocurrency exchange employs all the essential security procedures to protect each operation and each component of the solution. Everything from wallets to transaction data is shielded from prying eyes and intentions by a multi-layered security and encryption system.
Why choose a white label cryptocurrency exchange?
Choosing in-house development over commercial software is an understandable move, especially for those who want to control every step of software engineering. However, this luxury is not easily affordable, sometimes fund-wise, sometimes time-wise.

The constantly changing domain of cryptocurrencies is a perfect example since sometimes it is crucial to start testing the theory in action in the shortest possible time instead of creating a complex custom-made software structure.
This is where white label digital asset exchange software steps in
Contact us
How can you benefit from a white label exchange solution?
Time is one of the most important resources in today's digital asset market, and white label crypto exchange software is a great tool to save this resource.

Our turnkey cryptocurrency exchange solution will provide you with a stable functioning platform within four weeks at most. In the case of the most basic requirements, this time can be reduced to two weeks.
Businesses that have pre-tuned and repeatedly tested white label exchange software will be able to operate more effectively from day one.

Combined with the vendor's flexible pricing policy, this will have the most favorable effect on the potential return from investments.
No operating expenditures
White label exchange software saves you the trouble of investing in your own staff for software fine-tuning and support — all such operations will be performed on the vendor's side.
In-house development can cost you times more than a white label digital asset exchange from a reliable vendor.

By purchasing white label software, you can launch a trading platform tailored to manage operations with Bitcoin and other cryptos and implement some cost-cutting on the way.
We can offer the most favorable delivery terms depending on your needs.
Contact us
Why choose our white label cryptocurrency exchange?
Often, the approach to white label digital asset exchange development is limited to just software modules, where the feature set does not particularly differ from manufacturer to manufacturer.

What we offer is more than just an off-the-shelf white label exchange solution. Each product included in the package is backed by years of development and the unique expertise of our team, which will also be at your disposal.

We let our clients assemble their own perfect solution from a variety of services and features that are included in the turnkey crypto exchange package. This is an instant advantage, gift-wrapped to meet your business needs.

Extra services
As part of this solution, we can take on as many operations management functions as possible to free up your time and resources to run your business.

This includes trading operations supervision, compliance outsourcing, and even full trading desk outsource, which can be extended with a personal account manager.

Proven reliability
Solution components have been tested by our clients under extreme market conditions for the widest range of challenges. We can provide detailed reports on various cases at your request.

Technological legacy
This turnkey crypto exchange incorporates our vast experience in building digital trading products.

The delivery and installation process is as simple and fast as if it were a mainstream white label Bitcoin exchange.

At the same time, the functionality of the solution components and their operational load corresponds to the requirements of major market players like global exchanges, some of which are our customers, too.

Operational flexibility
Despite the fact that our clients utilize different business models, they are comfortable with this solution.

Whether you are looking for a white label Bitcoin exchange or a multi-asset solution, we have the right functionality for you.

Investments made FOR you
We attracted six-figure investments at the stage of RnD for our products. Thus, our clients get access to the most expensive developments on the market at the price of mainstream products.
Solution anatomy
These components will be responsible for the stable operation of your white label Bitcoin exchange — or any other type of crypto exchange, actually. Focus on what's important to you and your business — let our products take care of the smooth technical running.
Liquidity aggregation and matching engine
Ready to bolster liquidity on your newborn exchange with technical connectors to major crypto liquidity providers.
Trading platform
A solid foundation to manage operations with Bitcoin or any other digital asset.
Trader's Room
A carefully designed back-office broker software dedicated to maintaining a healthy trading system.
Solution Security
We use the most advanced security solutions, and update the relevant components depending on the situation in the industry.

Private key method
Each cryptocurrency wallet is only accessed via a single private key. All private keys are stored using the highest security measures.

2FA and anti-phishing measures
Two-factor authentication and anti-phishing procedures provide additional protection for the personal data stored on your exchange.

Backup and recovery
The software package features routines for daily data backups as well as synchronous backups. Checks on the integrity of the backed-up data occur regularly.

Wallet separation
Deposits and withdrawals are processed in separate wallets.

Multi-level encryption
Our encryption technologies include hashing, symmetric, and asymmetric methods. A combination of these is used in every possible component.

Warm and cold wallets
Funds are kept in hot wallets for a short period of time before being placed in cold wallets.
White label licensing
The license agreement includes an option to provide a white label sublicense to a third party.
A new domain is created within the TickTrader Trading Platform for a sublicensee entity.
Custom-branded client trading applications are set up for the sublicensee, including web, mobile and desktop platforms.
Separate custom-branded client personal area component is set up for the sublicensee.
The white label software purchaser and its sublicensee share access to the admin components, although the sublicensee has limited access to the admin functions, depending on the purchaser's discretion and the sublicensee's requirements.
The white label software purchaser, which provides white label services to the sublicensee, increases its profits through expanded trading volumes and additional commissions.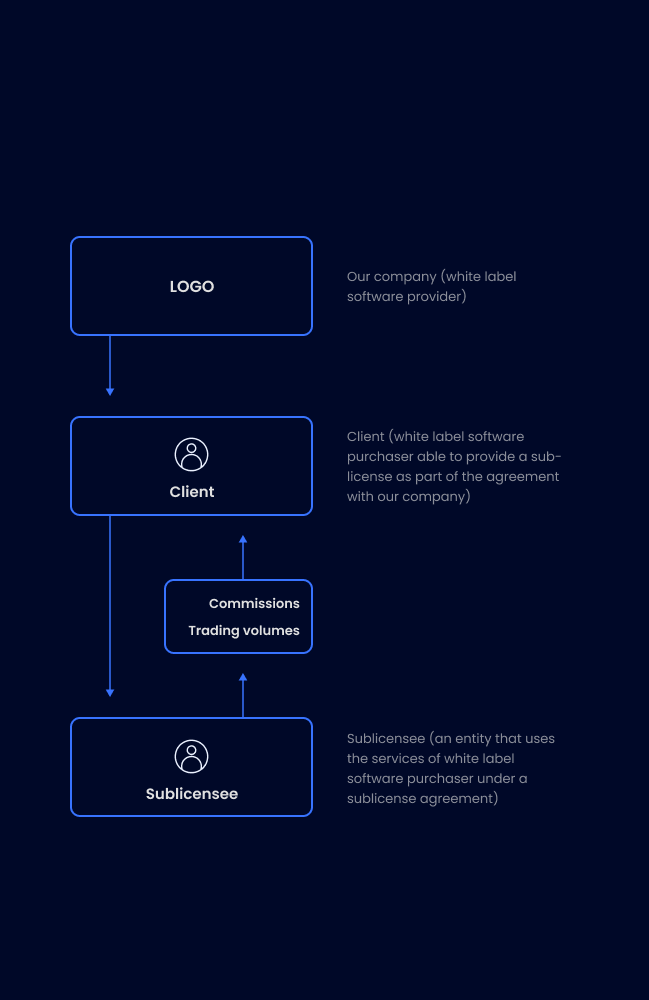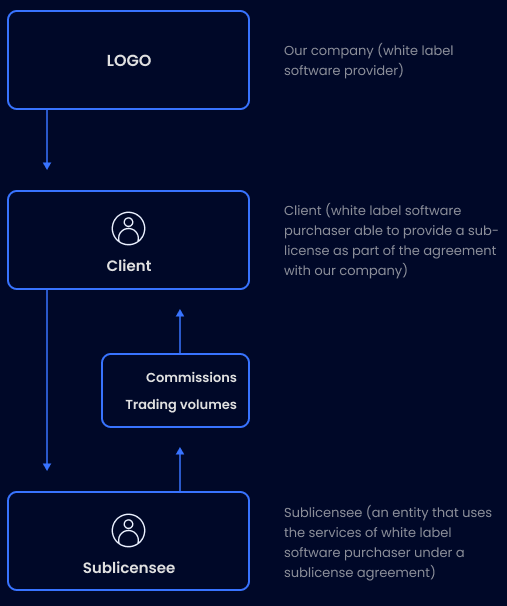 FAQ
What is a white label exchange as implemented by you? Do you provide a white label business license or white label software?
So you're just a software vendor?
How long does it take to set up a white label exchange with your solution?
Does the solution include a regulatory license?
Do you provide liquidity?
What are the customisation options?
Do you provide additional integrations?
Is it possible to deliver the individual components of the solution?
Do you provide the source code?
Do you provide consistent support for your solutions?
How much does a white label crypto exchange cost?